---
History of associated names
The following names have a territorial association with the Lindsay family.
The names Byres, Byars, Byers, Byre, Bier(s) and Buyers are derived from the old barony of Byres in Haddingtonshire (now East Lothian). This barony was held by the Lindsay family since 1233 and gave name to the title 'Lindsay of The Byres' which is still used by a cadet branch of the family.
The surname has recorded ancient usage. In 1309 John de Byres was a monk in Neubotle, Midlothian. Thome de Byris was the owner of a tenement in Edinburgh in 1392. In 1534, there is a record of a Thomas Byrs being a burgess of Aberdeen. George Byris and Thomas Byris were successively ministers of Legertwood (north-east of Earlston) in Berwickshire from 1593 to 1653. John Byres was a well known merchant in Edinburgh who died in 1639. In 1690 the schoolmaster at Melrose was Thomas Byers. Andrew Byres was a burgess of Cupar in 1694.
The family of Patrick Byres of Tonley is recorded as descending from John Byres, a merchant of Edinburgh in 1610. Patrick was granted a coat of arms by Lord Lyon in 1755. These arms show a blue shield on which is a silver chevron between three golden martlets. Patrick's son, James, lived in Rome for many years and became a well-known antiquarian. The family lived on their estate of Tonley, in Aberdeenshire, until the 1950s.
Byres is a topographical name derived from Old English býre, meaning stall or cattle shed.
Cobb is a common name in the Brechin area – two-thirds of the county was held by the Lindsays and became known as the Land of the Lindsays. Malcolm Cob of Brechin held land in 1508 and John Cobb was known in Brechin in 1629. In 1528 there was a record of a place named Cobbisland in Brechin. A family by the name of Cobb helped pay for the building of a bell house at Novar in 1773 (10 km north-east of Dingwall).
Cobb is a topographical name derived from Old English cobb meaning 'a rounded mass'.
According to George Crawfurd, a 17th century historian, Crawfords descend from Thorlongus (Thor the Tall), an Anglo-Danish chieftain who received a grant of land in Scotland from Edgar, king of Scots, in about 1100 AD. He received the Barony of Crawford, from which his grandson, Galfridus de Crawford was the first to take this surname. The Crawford family retained the portion of the barony known as Crawfordjohn. A Crawford heiress, Margaret, married Sir Malcolm Wallace of Ellerslie, and gave birth to William Wallace, Scotland's greatest patriot.
The barony of Crawford was located around the upper River Clyde in south Lanarkshire. The Lindsay family inherited the barony when William Lindsay married c1154 the younger daughter of Thor, sheriff of Edinburghshire, and granddaughter of Sveinn, Lord of Crawford. Following the death of Thor in about 1165, it was probably William Lindsay who built the stone castle in 1175 guarding the approach from England into the upper Clyde Valley. He is recorded as Lord of Crawford by 1185x1190.
While well over fifty coats of arms are associated with the Crawfords, they are generally variations on three themes.
Gules a Fess ermine is associated with the Crawfordjohn family. These arms are displayed in the Bute Mazer which dates back to the 1320s. Argent a Stag's head is associated with a junior branch, the Dalmagrengan Crawfords of Nithsdale, descendants of Sir Gregan who reportedly rescued King David I from a stag's attack in 1127. The third design of arms, Argent two Lances in saltire between four ermine spots is associated with Auchenames, before it was extinguished the principal line of the Crawfordjohn branch. This line ended when clan chief Hugh Ronald George Craufurd sold all the estates in his possession in 1904, and moved to Canada. He died in 1942 without a male heir.
Peter Craufurd of Craufurdland petitioned the Lyon Court in October 2007 for Chiefship of this name, but there may well be other claimants, among them Sir Robert Crauford, Bt.
The present senior branch of the family, the Crawfords of Kilburney, Stirling, received a baronetcy in 1781, and are now represented by Sir Robert James Crauford, the 9th Baronet, who lives in Hampshire. His arms display on a silver shield, two crossed tilting spears between four ermine spots, surrounded by a checked border.
It is interesting to note that an earlier and distinct Kilbirnie title was inherited by the Lindsays. Margaret, the only daughter of Sir John Crawford of Kilbirnie married the Hon. Patrick Lindsay in 1664. To inherit the lordship of Kilbirnie, Patrick, the second son of John, the 17th Earl of Crawford, changed his surname to Crawford. His grandson, however, re-introduced Lindsay into his surname, so his son, George, was known as Lindsay-Crawford. George Lindsay-Crawford, became 21st Earl of Crawford, and Lord Kilbirnie. When Kilbirnie Castle burnt down in April 1757, George built a new home in Fife called "Crawford Lodge".
Y-chromosome DNA test results on those with the surname Crawford tend to support the genealogy of the Crawfordjohn line whose members are consistently of the I1a haplogroup suggesting Nordic origins. While exhibiting far less homogeneity, members of several other Crawford lineages identified through Y-DNA testing, are generally of the "Western European" R1b haplogroup. It is unlikely that these other lineages share a common ancestor within the advent of surnames in the last 800 years.
There is no match between any Lindsay Y-DNA test results and any Crawford results showing that these two houses are distinct.
The name Crawford is now 80th in order of frequency of surnames in Scotland. This is a habitation name from any of the various places so called from Old English cráwa Crow and ford Ford.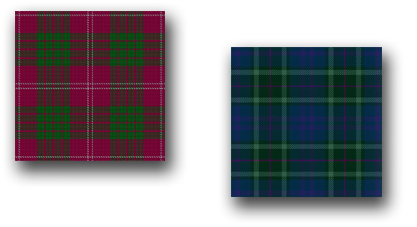 The Crawford tartan (left) is derived from the Vestiarium Scoticum, first published in 1842. A personal tartan for the Baron of Crawfordjohn (right) was designed in 2005.
For further details on the house of Crawford, or to join the Clan Crawford Association, visit clancrawfordassoc.org.
The names Deuchar and Deuchars come from the lands of Deuchar in Forfarshire (13 km west of Brechin). The Deuchars of that Ilk were one of the oldest families in that area and held lands of Deuchar in the parish of Fern from about 1230. The Deuchars were first vassals of the Mowats and secondly the Lindsays. In 1369 Sir Alexander Lindsay of Glenesk granted a charter of the lands of Deuchar to William de Deuhqwhyr. In 1819 the lands were sold and the owner left Scotland for abroad.
In 1478 Duchar of that Ilk helped sort out an argument between neighbours. In 1569 Robert Dewquhir was a friar in Culross (11 km south-east of Alloa). John Dwichair was a shoemaker in Aberdeen in 1581. Alexander Dochar was a writer in Edinburgh in 1686.
In Gaelic deoradh means pilgrim or stranger and was also a term for someone who had custody of the relics of a saint: a Pethshire family of this name were for centuries custodians of the crozier-head of St Fillan. There are two places called Dewar in Midlothian which would provide local surnames: Thomas and Peires de Deware did homage to Edward I of England in 1296. Dewar is the family name of the barons Forteviot, and has become synonymous in Perth with the manufacture of whisky.
Dewar has also given rise to a Mac name: the Skye family of Mac gille dheoradha (son of the Dewar's lad) simplified their surname to MacLeora, sometimes spelt MacClure.
Deuchar and Dewar were often interchanged in the past as spelling was not as consistent as it is now. Dewar and Deuchar are both 'locality names' though Deuchar can also be an occupational name or nickname.
Crawfords, Deuchars and Fotheringhams are sometimes found wearing a variation of the Lindsay dress clan tartan.
The barony of Downie was acquired by the Lindsays on the marriage of Sir David Lindsay in 1324 to Maria Abernethy. The possible sources for this name all indicate the earlier pronunciation 'doonie'. Ó Dúnadhaigh means 'fortress-keeper' and gave rise to the Irish version of the name. O Duibhne, legendary founder of the clan Campbell, is mentioned in the 11th century Book of Deer. In Scotland, there was a barony of Downie or Duny in Monikie parish near Dundee (dun meaning hill or fortress) which gave the common local surname of Downie. The name occurs sparsely in the early records (in Arbroath, Angushire, Dundee, Aberdeen, Glasgow and the Orkneys) however, is now widely spread.
The surname Downey was an Australian First Fleet surname.
This Scots surname is derived from a place in Angus called ffodryngay in 1261 named after Fotheringhay, an estate in Northamptonshire. The name which acquired the characteristically English suffix of –ingham is derived from Old English fód-ring-ēg meaning 'island used for foddering or grazing'.
The estate of Fotheringham was held by the Scottish royal family in the 12th century as part of the honour of Huntingdon. When the Earl of Huntingdon assumed his alter ego of King David II and returned to Scotland in 1357 he looked kindly upon his former English neighbours; Henry de Fodringhay was in due course given land near Dundee, and his collaterals and descendants acquired further territories in Angus and around. Thomas Fotheringhame was provost of Dundee in 1454; the estate of Fotheringham near Forfar is still in the family. The name travelled to other parts of Scotland, including Orkney, and is now common in Glasgow as well as in Angus.
David Fotheringhame of Powrie, and his relations Thomas Fotheringhame of Bandean and Robert Fotheringhame of Lawhill were granted arms by Lord Lyon. The first dislays a shield ermine with three red bars; the second is differenced with a bordure; and the third is differenced with a golden buckle upon each bar.
Rinn in Gaelic (pronounced 'reen') means sharp point, and is a very common place-name element with the sense of 'promontory'. Rhind is the name of a farm near Fife, and there is a parish of Rhynd near Perth; the former is probably the referent for Hugh del Rynd, who was a cleric of Bishop William Lamberton of St Andrews in the early 13th century; and there are numerous individuals in the early records whose names refer to the Perth Rhynd. The surname spreads widely after this: William Rinde appears in Edinburgh in 1426 and Henry Rynde in Caithness a year or two; William Rynd was rector prebend of Arbuthnot in 1548; John Rind is in Elgin in 1661. Alexander Rhind,
Egyptologist and expert on Theban tombs, founded the Rhind lectureship in archaeology.
In 1672, Lord Lyon granted a coat of arms to Alexander Rind of Carse, Scotland, a "procuruer in Amsterdam in ye Province of Holland". These arms display, on a silver shield, three golden escalops upon a blue bend.
The surnames Summer(s), Symmers, Symers, Simmers and Somers are metonymics which derive from the old occupation of sumpter or pack horse driver (from Old French sommier, sommetier, meaning pack horse).
William Sumer is recorded in connection with the hospice of Soutrain in the early 13th century. Johannes Sovmer was a burgess of Perth in 1365, and Adam Summer (heir to Barthillomew Summyr) lived in Glasgow in the mid-16th century. David Sommer was in Ancrum in 1633 and John Symer was a burgess of Aberdeen about the same time. A family named Symmer who held their Angus lands from 1450 to 1750 are said to have changed their name to Seymour. In 1682 the Symmers of Baljordie were known as an ancient family and chief of that name. There was an Elizabeth Summer in Stonehouse in 1698 (8 km south-south east of Hamilton).
Summers is an Australian First Fleet surname.
The Afflecks do not have a Scottish territorial association with the Lindsay family; their link goes further back to Flanders. During the reign of David I a young man of the name Affleck arrived in Scotland from Flanders, and was given lands and a charter by the king to build a castle at Monikie in Forfarshire. The castle he built is still there, modernised in the 15th century, about eight kilometres from the coast and still known as Affleck Castle. His arms were argent, three bars sable - the tinctures of the Flemish family of Alost in the pattern of Oudenarde. A descendant of his sought an official position with the Lindsay family, and became armour-bearer to the Earl of Crawford, just as his ancestor was flag-bearer to Count Baldwin II of Alost on the First Crusade.
There is little evidence to support any Scots Gaelic derivation of the name Affleck from achadh-laec 'field of flat stones'. Some writers such as William Anderson in The Scottish Nation, describe such a definition as "simply absurd".
There are several Afflecks of interest. Lord Auchinleck, the father of James Boswell, took his title from the family estate in Ayrshire. There was a Patrick de Aghleke in Lanarkshire in 1296. Auchinleck barely survives as a surname in Scotland, although it is remembered as
that of a famous World War II general. Affleck, appears mainly in the Borders and Aberdeenshire. There are villages of Affleck in Lanarkshire and near Dundee. James MacVicar Affleck of Edinghame, a surgeon on the island of Jamaica, quartered his arms with those of MacVicar in Dec 1777. The Affleck of Edinghame arms illustrate a silver shield with three black bars and a red bordure.
Compiled and illustrated by Chris Lindesay, FSA Scot, heraldist and genealogist
Clan Lindsay Society of Australia
Sources:
Anne Alexander (1998) Clan Lindsay Recorder. Clan Lindsay Association USA. Fall edition.
Kenneth Allen (1990) Family Names in Australia & New Zealand. Kangaroo Press Pty Ltd, Kenthurst.
George Black (1962) The Surnames of Scotland. Their Origin, Meaning, and History. The New York Public Library, New York.
Basil Cottle (1986) The Penguin Dictionary of Surnames. Penguin Books, Harmondsworth, Middlesex, p144.
Joanne Crawford, Kevan Crawford & Raymond Crawfurd (2008) The house of Crawford: two branches. A comparison of descent through genealogy, heraldry, and Y-DNA. The Meeting of Two Worlds: Quest or Conquest. Proceedings of the XXVIII International Congress of Genealogical and Heraldic Sciences, Quebec, Canada, 23-27 June 2008.
Ian Grimble (1982) Scottish Clans & Tartans. The Hamlyn Publishing Group Ltd, London, p56-57.
Lt Col Gayre of Gayre and Nigg & Reinold Gayre of Gayre and Nigg the Younger (1969) Roll of Scottish Arms. The Armorial, Edinburgh, Part I, Vol I & II.
Patrick Hanks & Flavia Hidges (1988) A Dictionary of Surnames. OUP, Oxford.
Edward MacLysaght (1972) The Surnames of Ireland. Irish Academic Press, Dublin, p89.
Beryl Platts (1985) Scottish Hazard. Vol I, Procter Press, London, p149-150.
Beryl Platts (1990) Scottish Hazard. Vol II, Procter Press, London, p37-38.
P H Reaney (1958) A Dictionary of British Surnames. Routledge and Kegan Paul, London, p312.
Donald Whyte (2000) Scottish Surnames. Birlinn Ltd, Edinburgh, p39-41.
Translate this page using Google Translate
Updated 2022-01-01
---
© 2000-2022 Clan Lindsay Society of Australia
4 Wallerawang Road PORTLAND NSW 2847 Australia